---
[ASTRO WEBSITES]
[PHOTO GALLERY]
[ASG NEWSLETTER]
[NEWS OF THE WORLDS]
[BOWMAN OBSERVATORY STORY]
[THIS MONTHS LUNACY]
[RETURN TO ASG HOMEPAGE]
---
Astronomical Society of Greenwich
Bruce Museum of Arts & Science
One Museum Drive
Greenwich, CT 06830
(203) 869-6786, Ext. 338
http://www.geocities.com/astrogreenwich






June 2000
Monthly Meeting
Wednesday, June 7 – Bowman Observatory – 8:30 PM
"Scopes at the Bowman"
Bring your telescopes and set them up on the lawn by the Observatory. We'll all help each other and learn together – and by the time it gets dark (probably a little after 9 PM!) we can look at the crescent Moon and anything else that happens to be up there. We may even catch a glimpse of Mercury (see below). Light refreshments will be served. Come and bring a friend!
Cloud Date: Friday, June 9






Bowman Observatory Public Nights
(Weather Permitting)
June 13 & 27 – 9-11 PM
July 11 & 25 – 9-11 PM
August 8 & 22 – 8:30-10:30 PM




Mark your calendar!
Bob and Trish Pfeiffer have generously offered their home for an Equinox Party and Cosmic Croquet Match. Tentative date is Saturday, September 23. We'll keep you posted!
Lunacy June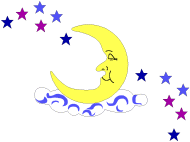 1 - Moon in conjunction with Jupiter and Saturn
2 - New Moon
3 - Moon is at perigee (225,663 miles from Earth)
4 - Moon in conjunction with Mercury
8 - First quarter Moon
16 - Full moon - "Flower Moon"
18 - Moon is at apogee (252,346 miles from Earth)
20 - Moon in conjunction with Neptune
21 - Moon in conjunction with Uranus
24 - Last quarter Moon
28 - Moon in conjunction with Saturn and Jupiter
News of the Worlds
Summer solstice takes place June 20 at 9:48 PM EDT.
Mercury is visible in the evening sky for the first two weeks of June, reaching greatest elongation (24° east of the Sun) on the 9th. Come and see it at the Observatory!
Jupiter and Saturn pop up in the morning sky, giving us their closest conjunction in 20 years on May 31, and moving slowly apart throughout June. They'll rise earlier and earlier during the summer and we'll be able to observe them in the evening this fall.
Comet LINEAR is making its way through Perseus this month, and everyone is hoping it'll reach naked-eye brightness in July.
A fond farewell…
…to Paul and Mary Mitchell who have returned to their home in England. They promise to keep in touch by e-mail.

---