---
[ASTRO WEBSITES]
[PHOTO GALLERY]
[ASG NEWSLETTER]
[NEWS OF THE WORLDS]
[BOWMAN OBSERVATORY STORY]
[THIS MONTHS LUNACY]
[RETURN TO ASG HOMEPAGE]
---
Astronomical Society of Greenwich
Bruce Museum of Arts & Science
One Museum Drive
Greenwich, CT 06830
(203) 869-6786, Ext. 338
http://www.geocities.com/astrogreenwich
January 2001
Monthly Meeting
Wednesday, January 3 ? 7:30 PM ? Bruce Museum
Books! Books! Books!
As reported in our last issue, the ASG has inherited a large and varied collection of astronomical books and magazines. They've been partly catalogued by Elena Ivanina, a Greenwich High School student ? but much work remains to be done. Come and get acquainted with our new resources! (We'll even let you borrow one!)
Bowman Observatory Public Nights
(Weather Permitting)
January 9 & 23 ? 7-9 PM
February 13 & 27 ? 7-9 PM
March 13 & 27 ? 7-9 PM
Looking ahead?
Our next meeting, February 7, will be a special guided tour of the Bruce Museum's new exhibitions, Destination: Space and Space 2001: To the Moon and Beyond, by the curator, Bruce Riggs. Also in February: Astronomy Day (Saturday, 2/17, 12-4 PM ), School Vacation Workshops on space (Tuesday-Friday, 2/20-23, 10:30 AM) and Space Day (Sunday, 2/25, 1-4 PM). Volunteers will be needed for all these activities!
Lunacy January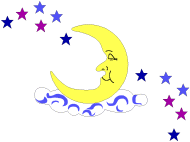 2 - First Quarter Moon
5 - Moon in conjunction with Saturn
6 - Moon in conjunction with Jupiter
9 - Full Moon ? "Wolf Moon" ? will be totally eclipsed, 1:42-4:59 PM EST. Unfortunately, most of this event takes place before moonrise in our area! However, we will see the end of the eclipse when the moon rises at 4:40 PM EST.
10 - Moon at perigee (221,910 miles from Earth)
16 - Last Quarter Moon
17 - Moon in conjunction with Mars
20 - Moon in conjunction with asteroid Ceres
24 - New Moon at apogee (252,626 miles from Earth)
25 - Moon in conjunction with Mercury
27 - Moon in conjunction with asteroid Vesta
28 - Moon in conjunction with Venus
News of the Worlds
Earth reaches perihelion (our closest approach to the Sun, 91.4 million miles) on January 4.
Quandrantid Meteor Shower runs from January 1-5, peaking on the morning of the 3rd. Look northeast, near the constellation Boötes, around 3 AM for 60-120 meteors per hour.
Jupiter and Saturn, high and close together in the evening sky, will be stationary on the 25th. After that they begin retrograde motion as Earth leaves them behind.
Mars is still a morning-sky object, rising around 2 AM. Slowly moving toward opposition, it won't get there till summer.
Mercury will be an evening planet during the second half of the month. It has a conjunction with Uranus on the 22nd and reaches its greatest elongation (18º east of the Sun) on the 28th. Look for it below Venus and the Moon around 5:30 PM that evening.
Venus is also at its greatest elongation this month, reaching 47º east of the Sun on January 17. Dazzling though it is now, it won't reach greatest brilliancy until next month.
Neptune disappears behind the Sun on the 25th.
Happy New Year everyone ? & Happy (real) New Millennium!
---